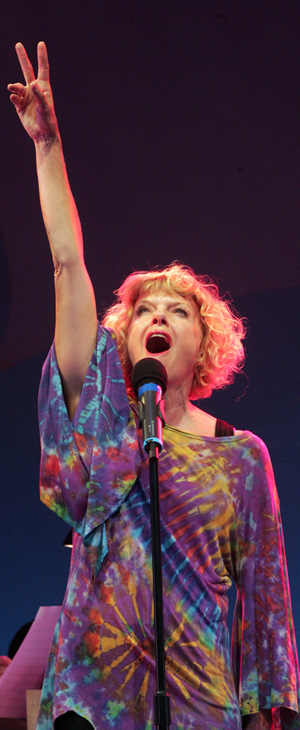 RAY RODERICK (Director/Choreographer/Co-Writer) is currently directing MAME starring Tony Nominated Louise Pitre and Broadway Veteran Judy Blazer for Goodspeed Musicals, where he also directed SINGIN' IN THE RAIN, 42ND STREET and MY ONE AND ONLY. He has recently created/directed 'S WONDERFUL! THE NEW GERSHWIN MUSICAL. Ray adapted the script and directed the 1st US National and UK tour of CHITTY, CHITTY, BANG, BANG now licensed by Music Theatre International. He was associate director of A CHRISTMAS CAROL at Madison Square Garden for six years, where he was privileged to work with original director Mike Ockrent. He was also associate director for Susan Stroman's Broadway revival of THE MUSIC MAN, and subsequently directed the successful 3 year North American Tour. He co-wrote/directed/choreographed Irving Berlin's I LOVE A PIANO (Carbonell Award nomination best choreography, Florida Stage) 4 year National Tour US and Japan. Off-Broadway, Ray directed and co-wrote the new musical THE PRINCE AND THE PAUPER (published by Samuel French), and directed and choreographed THE ARK, LAMOUR THE MERRIER and THE STORY GOES ON. He also co-wrote, directed and choreographed THE RAT PACK LOUNGE! (Carbonell Award nomination, best new work, Florida Stage), A CHRISTMAS SURVIVAL GUIDE (published by Samuel French) and I LOVE NEW YORK (Bistro Award, Best Musical Review 1999). Ray was the founding artistic director of Tri-State Center for the Arts, where he remained at the helm for seven years. With partner James Hindman, he formed Miracle or 2 Productions (Miracleor2.com), a licensing and production company dedicated to the creation and development of the new American musical. Together, they have created ARE WE THERE YET?, COMING TO AMERICA, and THE BIKINIS…A NEW MUSICAL BEACH PARTY! touring 2012/2013. For The Denver Center of the Performing Arts, Ray has directed and choreographed THE LAST 5 YEARS, THE TAFFETAS, FIVE COURSE LOVE, and I LOVE YOU, YOU'RE PERFECT, NOW CHANGE! (Denver's longest running show). Ray begins his thirteenth year as creative director for the United States Tennis Association's US Open, where he creates on court ceremonies for ESPN and CBS live television, and Directs ARTHUR ASHE KIDS DAY television show for CBS. He wrote the English adaptation and directed the Chinese production of CHUN YI, THE LEGEND OF KUNG FU now in its 6th year in Beijing, having played London's West End and tours of Japan and Russia. Regionally, Ray has directed many shows including THE MUSIC MAN at Ogunquit (Moss Hart Award), DAMES AT SEA at Bay Street Theatre in Sag Harbor and he directed and choreographed an all new BARNUM for Westchester Broadway Theatre. He also directed BELIEVE, the award winning SHAMU (killer whale) show for SeaWorld in San Diego. As Broadway performer, Ray was seen in many shows, including BARNUM starring Jim Dale and Glenn Close, and originated roles in GRIND, CATS, THE WIND IN THE WILLOWS, CRAZY FOR YOU and A FUNNY THING HAPPENED ON THE WAY TO THE FORUM starring Nathan Lane and Whoppi Goldberg. Ray is a graduate of Illinois State University, where he received a Bachelor of Science degree in the performing arts. He resides in New York, is married to Broadway actress Karyn Quackenbush, and is the proud father of SUNY Purchase student and lighting designer Jamie Roderick.
---
JAMES HINDMAN (Co-Writer) currently a member of The Advanced Playwriting Workshop at The Barrow Group. As a writer – His play MULTIPLE FAMILY DWELLING is in development at New Jersey Rep. THE DRAMA DEPARTMENT (Terrence McNally Award finalist), developed at Hangar Theatre, reading at Second Stage; THE BIKINIS! (Productions include Goodspeed Musicals, Long Wharf Theatre, Riverside Theatre); PETE 'N' KEELY (Outer Critics Circle Award nomination, two Drama Desk nominations, Pub. Samuel French); recipient of an NEA Grant for my original musical BEING AUDREY, commissioned by The Transport Group; contributor to THE AUDIENCE (Drama Desk nomination), INCUBUS (Pittsburgh Public Play Reading Series), MERCADA (Vineyard Theatre Reading). His adaptation of the award winning animated film, THE LITTLEST LIGHT ON THE CHRISTMAS TREE was presented at The Vital Theatre in New York. MOVERS AND SHAKERS winner of The Hartland Theatre 10 minute play festival. Co-writer: COLD FEET, I LOVE NEW YORK (Bistro Award); A CHRISTMAS SURVIVAL GUIDE (Pub. Samuel French), ARE WE THERE YET? (Numerous Productions around the country) HEAVEN HELP US (Denver Center, Carbonell Award nomination) and was one of the creators for a new show at Busch Gardens. Proud member: Dramatist Guild of America.
As an actor – B'way and tours: MARY POPPINS, THE SCARLET PIMPERNEL, 1776, CITY OF ANGELS, A GRAND NIGHT FOR SINGING, ONCE UPON A MATTRESS, FALSETTOS, DANCING AT LUGHNASA. Off-Broadway: THE FOREIGNER, FIRST LADY SUITE, A MAN OF NO IMPORTANCE, BAT BOY!, MERRILY WE ROLL ALONG. Television and Film: Recurring role on "Public Morals", "Forever", "Believe", "Person of Interest", "Hostages", "House Of Cards", "The Blacklist", "Unforgettable", "Henry's Crime", "The Sopranos", "Law and Order, SVU, CI", "Rescue Me" and "The Blacklist".
---
JOE BAKER (Music Arranger/Composer) has been working as a Conductor and Pianist on and around Broadway for over 20 years. Shows he has performed include: WICKED, THE LION KING, BLOOD BROTHERS, THE LIFE, GRAND HOTEL, STARLIGHT EXPRESS, THE TAP DANCE KID, LITTLE SHOP OF HORRORS, CATSKILLS ON BROADWAY, FOOTLOOSE, BELLS ARE RINGING, and LAUGHING ROOM ONLY. He has also done duties as Orchestrator, Vocal Arranger or Dance Arranger on shows as: BUBBLY BLACK GIRL, THE GREEN HEART, and FOOTLOOSE. Across the sea, Joseph has worked on the 1987 Japan tour of LITTLE SHOP as music director and conductor. Since 1999 he has been a guest conductor, arranger, and music director for the HYUNDAI Theatre Company in Seoul, Korea, performing their successful productions of TRIPITAKA, and CHANG POGO. He also went with the company to Europe as well. He has performed with several well-known artists on the concert stage, and especially enjoys work in the symphonic orchestra field. He has conducted for Artists such as Helen Reddy, Petula Clarke, Art Garfunkel, Chita Rivera, Leslie Uggams, Jackie Mason, Carole King, and David and Shaun Cassidy. He has recently had some success as a composer and producer in film and TV, He composed and arranged the score for the smash hit documentary MAD HOT BALLROOM, and is Composer Arranger –Producer for DITTYDOODLE WORKS, an exciting new children's TV series on Public Television WLIW called, with a possible world wide release in 2007. He also works as a Recording Music Producer, and his work is currently on recordings by Jeremy Kushnier, (the current star in RENT), Petula Clark, Jonny Peterson, Steven Lutvak, and J. Mark McVey. His other "musical life" includes projects in his own midtown studio, ([email protected]), and when not being a musical-arranger, he arranges time with his wife Renae, and children Rosemary and David Baker. He dedicates his work on this concert to his father, who showed by example that anything is possible through love and generosity.